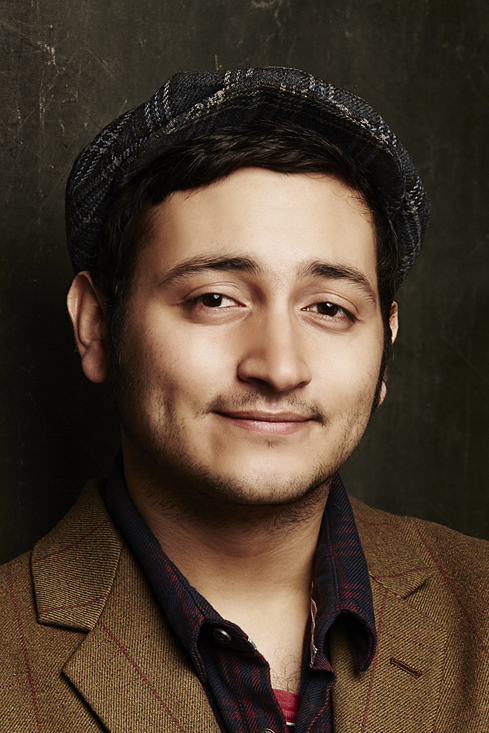 FLICKERS' SPOTLIGHT: Agneya Singh, Director of "M Cream"
–> By Amber Ramundo, RIIFF Publicist / PR Associate 
Original article available at the RIIFF Blog!
If a director's first feature-length film is any indication of what his future holds, Agneya Singh is a promising name to look out for. Only 25 years old, Agneya spent the past five years working on his first feature length film, "M Cream." The Rhode Island International Film Festival is fortunate enough hold this noteworthy film's world premiere at this year's festival.
Agneya has always hand an interest attuned to the mindset of young people when confronted with the realities of the world. "M Cream" brings a new perspective to the young dynamic within modern India. While many popular films about India have been about the slums and corruption of this country, "M Cream" has a refreshing approach to storytelling that takes viewers on an adventure through beautiful landscapes, complex relationships, and introspective revelations. The film is about the personal strife of the young mind and the confliction we often face between the choice to stand up for change and the choice to be passive to crisis that persists around the world.
"M Cream" makes a statement not only to how people respond to issues within India, but how people respond to issues across the globe. It allows us to recognize that no matter where a person comes from, each individual must at some point contemplate whether or not to join the  movement to to help find solutions for things in our world that are not the way they should be. "M Cream" is a beautiful tale of humanity that inspires us to self-reflect and take action.
RIIFF is blown away by "M Cream," and we know you will be too. Agneya will be attending the Festival for the world premiere of "M Cream," which will be held on Sunday, August 10th. Visit the RIIFF website for details!
RIIFF: How did your film making career begin?
Agneya: I've always been fascinated by cinema ever since I was a kid. I started with photography and that worked as a gateway to documentary. I started dabbling with documentaries in middle school and high school. I did that for some time, but I was always intrigued by narrative and the power that stories have in terms of communicating with people. So, I wanted to explore the narrative form a little bit and that's what led me to NYU Tisch School of the Arts. That's where I was exposed to different types of cinema from all across the world. While I was there I noticed that there was something very interesting going on with young people and I wanted to make a film that explored these issues. That led to the feature film being made, "M Cream."
RIIFF: Explain the different dynamics between the characters of "M Cream" and how they reflect the mindset of young people today.
AGNEYA: I've definitely seen that a lot of young people in India are waking up and beginning to ask questions about what's going on in the world. I think that's very encouraging. When you talk about rebellion in terms of young people, there is an inward rebellion as encapsulated with the character, Figgs, who is more focused on escapism even though he knows that things are not the way they should be. Then there is the opposite end of the spectrum, which is shown by the character, Jay, who is someone who really wants to make change, but probably doesn't have much experience or doesn't know exactly how to do go about it. This interplay between the two different forms of rebellion is something that I find really interesting and I see it in a lot of people In India and across the world.
You have this dichotomy of young people who are incredibly political and motivated to creating change, and then you have the other spectrum of young people who don't really identify with the system as it is but instead of trying to confront it, they shrug away and rather take the route of escapism.
RIIFF: When you were making the film, was it your intention to bring a new perspective to India?
AGNEYA: What I've noticed is that we have two very different notions of India. The notion that's shown to people living here is actually very glamorized; it's what we call Bollywood. It has big song and dance ensembles with very elaborate sets, and basically shows a complete dream world to people. Whereas the films that actually go to festivals and circulate into the West tend to focus very much on the poverty, the slums; on certain aspects of India that have been propagated internationally.
What I actually notice is that there is this new youth culture and a new way of thinking. We have shown "M Cream" to a lot of people here who have really identified with the film in a very big way. The goal of this film was to break away from those two forms of India that have been presented to people before and instead to try and show a new, more realistic face.
RIIFF: Who inspired the characters of "M Cream?" Are any of them a representation of yourself or those you know?
AGNEYA: I think the characters are all influenced and inspired by people I know. When you're writing there is always a part of you involved, even unconsciously. There is a way you sort of project yourself into your characters so there's probably some of that going on. But they definitely are influenced by a lot of people that I have known, that I still know. I've shown the film to different people and they recognize people, so it's definitely very much influenced by the way things are and the way I see it with the people that I have interacted with.
RIIFF: Do you see "M Cream" being able to reach audiences within India?
AGNEYA: It is going to be difficult. We have a right wing, pretty conservative government in power right now. We showed the film to a few censor officials and the fact of the matter is that the film does have a positive message. It's not eulogizing the use of drugs; it's not homage to the use of drugs and it doesn't glorify it. It's just a depiction on the way things are and that's the way our stance has always been. Of course it's going to be tough for us, but I think showcasing the film at RIIFF will definitely help us in a large way even in catering the support that we need in order to get us passed through with the censorship in India. I think we do need that international recognition to convince our own censor authorities that it's a film that should be showcased and should be seen.
RIIFF: What do you hope for people to take away from viewing "M Cream?"
AGNEYA: The film will have to speak for itself. What I would hope is that it should introduce a new site to India and it should also bring up certain issues that I think it's high time we start facing. I think that it is great timing because I do believe that there is a new form of radicalization, particularly when it comes to young people across the world and I think that this film should connect to a lot of those occupants and it should also make people think in question about what's going on around them.
It really is a frightening world when you look at what's going on and I think that if you look at the Arab spring or even the occupy movement, even if you look at those who do not get involved in a movement, people do know that things aren't the way they should be. My hope is that it's really the young people who actually do something.
ABOUT THE RHODE ISLAND INTERNATIONAL FILM FESTIVAL:
The FLICKERS: Rhode Island International Film Festival (RIIFF), has secured its place in the global community as the portal for the best in international independent cinema, earning the respect of domestic and foreign filmmakers, filmgoers and trend watchers. This confluence of art and commerce brought together world-class celebrities, award-winning filmmakers, new talent and audience members in record numbers last year. Ranked as one of the top 10 Festivals in the United States, RIIFF is also a qualifying festival for the Short Film Academy Award through its affiliation with the Academy of Motion Picture Arts and Sciences. There are 19 film festivals worldwide which share this distinction and RIIFF is the only festival in New England. The Festival takes place August 5-10th. For more information about RIIFF, please visit www.rifilmfest.org.